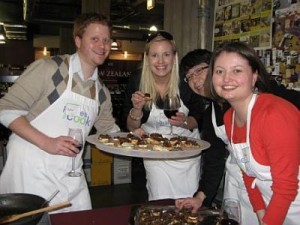 With Valentine's Day just around the corner, couples all over are looking for fun and unique things to do together. Dinner and a show is fine once in a while, but we all need some variety, right?
How about taking some cooking classes as a couple? We could all use a brush-up or some direction with our culinary skills (or lack thereof, in some cases), so we've gathered up a few places in the good ol' Twin Cities that offer cooking classes.
The Kitchen Window
The first place to polish your cooking skills is The Kitchen Window in Calhoun Square, Uptown Minneapolis. Besides having a wide selection of high end cooking supplies, The Kitchen Window offers a variety of different cooking classes. The Valentines Couples classes have been extremely popular, and the weekend classes are filled up, but there is a Candy for Grownups class Saturday at 10am that may be a good option for those Valentine's Day confections. Also, the Valentines Couples class for February 14th has spots left. The class begins at 6pm and the cost is $180 per couple.
Kitchen Window
Calhoun Square
3001 Hennepin Avenue
Minneapolis, MN 55408
(612) 824-4417
Cooks of Crocus Hill
With locations at 50th & France in Edina and historic Grand Avenue in St. Paul, Cooks of Crocus Hill offers abundant cooking classes, some especially for Valentines. Again, the classes have been wildly popular and most are sold out, but there are waiting lists available for the Valentines Day cupcake class, the Valentines Dinner class and Men Are from Bordeaux; Women Are from Burgundy on Monday February 14th. There's a class called Slow Food Fast to learn slow cooker techniques with a delightful menu, Sunday the 13th at 1pm at the 50th Street location, and a Libations and Sweet Treats class from 1 to 4pm Saturday the 12th, at the same location.
Even if you miss this weekend's classes, there are still plenty of opportunities to take some classes together in the future.
877 Grand Avenue
Saint Paul, MN 55105
(651) 228-1333
3925 West 50th Street
Edina, MN 55424
(952) 285-1903
The Chef's Gallery
Located in the Grand Garage in downtown Stillwater, The Chef's Gallery is a complete source for all your culinary desires. Offering sundry classes in various culinary disciplines, The Chef's Gallery is a perfect spot for a cooking class for couples. Check the website for details.
The Chef's Gallery
324 S. Main St.
Stillwater, MN 55082
(651) 351-1144
Whatever you decide to do with your sweetheart, have a happy Valentine's Day!