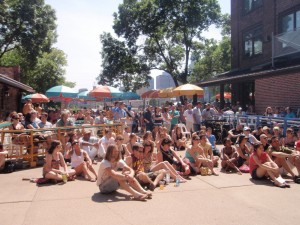 Festival season is upon us again and the weather couldn't be better for it! In addition to the Twin Cities Jazz Festival, this weekend also brings the Stone Arch Festival of The Arts, held in and around the park areas next to the river between the Stone Arch Bridge and the Central Avenue bridge. The grounds include Father Hennepin Park and Water Power Park.
You can see artists' booths and live music, as well as activities such as Art of the Car and the many activities organized for The Youth Arts Quarter.
Live music, one of the big draws for the event, includes performances by Dan Isreal, the Belfast Cowboys, Joey Ryan & The Inks, Black Blondie, Zoo Animal, Eliza Blue, We Are The Willows, Adam Svec, James Buckley Trio, Lynhurst, The Twilight Hours, and tons more. With four stages and over 40 artists performing, there should be something for every taste. Check out this neatly laid-out schedule of the live performances at the festival.
Looking at art, talking to the artists, and enjoying live music may increase your appetite. Luckily, there will be no shortage of food vendors and concessions available. These fine vendors will be offering everything from hot dogs to Walleye on a Stick, from noodles, gyros, pizza and tacos to mini donuts, popcorn, ice cream and gourmet fudge. Here's a complete list of the food court offerings at the festival.
This family-friendly event is free and open to the public.
For more information, check out Stone Arch Festival of the Arts online.