Who wants FREE Minnesota Twins tickets?? Well everyone does of course!
We have a pair of tickets for this Thursday April 12, 2012 at 12:10pm. Maybe you will be the Good Luck charm the Twins need to get back to winning games!!
These 2 tickets are standing room only on the Budweiser Roof Deck! So because of this you MUST BE 21 or older to use them!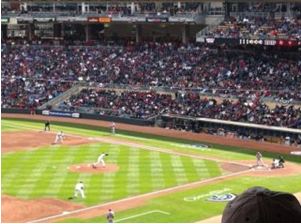 If you are interested in winning, just do the FOLLOWING 2 things!
1. Text the word TWINS to 612-223-6522 (see the 365 in there among the 2's?)

2. Share this post on FACEBOOK to your facebook friends! (or LIKE or TWEET) The buttons are to the left and on top of this post!
One winner will be drawn at random and notified via text message! Again, please only enter if you are 21 or older and if you are able to go to the game on Thursday at NOON!
**Tickets can be picked up downtown on Thursday morning from the IDS Tower!
This is our first text message contest so I am going to say…many will enter and only one winner. We promise not to sell your number to anyone else. Standard text message rates apply. Thanks for being a FAN of 365 Things To Do in the Twin Cities, MN!